Aluminum Foil Steam Pan
Aluminum foil steam pan for catering, cooking, and serving; dimensions measure 12.16 L x 10.2 W x 2.6 H inch. It's ideal for insulating food, transporting for parties and events; oven safe for baking, roasting, broiling, and more; freezer safe. Recyclable aluminum foil in pans inclues 10 pans per box or more.
Aluminum Foil Steam Pan Advantages
Recyclable: Recyclable aluminum foil steam pans are available in a variety of sizes and quantities. Full curl rim for easy handling.
Ideal for Food Service. From buffets, parties, and catering to food storage and transportation, the aluminum foil steam pans are handy for a variety of food service uses.
Single Sheets. Convenient for reheating, storage, and freezing, the aluminum foil containers are convenient for offsite service and come ready to use.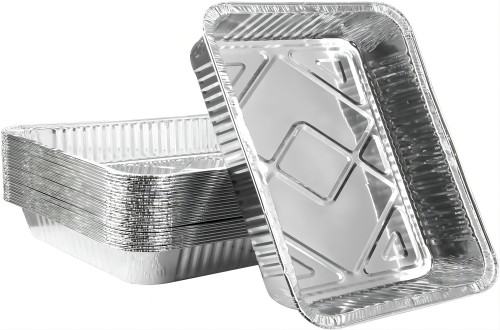 Question:
How long can I wear the product?
Answer:
With a sturdy chin strap you can wear a long time. Keep in mind this is only good for alpha and beta particles; it won't stop gamma, neutron or cosmic rays.
Question:
Can these pans fit a 5lb turkey, or not really? Thanks
Answer:
I don't know where you are getting a 5 lb turkey but that sounds like a turkey baby. Chickens are 5 pounds. And yes, you could put 5 pounds of meat in these trays. Just be careful when handling.